Original music compositions
I have been singing in choirs since I was a kid. I've always loved it. There is something so magical about the way you can blend your voice with those of other people and create spine-tingling music together – it gives me a thrill every time! So after 30+ years of singing other people's music in various choirs in Australia and Europe, I found myself somewhat unexpectedly writing my own.
The following pieces are self-published sheet music (to a professional, industry standard) and can be purchased by contacting me. Prices are per copy for a PDF that you can print yourself, or I can provide a quote for professional printing and posting hard copies to you. If you intend to use my music for non-profit fundraising, please enquire about waiving the purchase price.
Please let me know the details of any performances or recordings of my music. Program notes are provided on the back cover of each piece.
Passion to sing
My first piece is a challenging narrative for advanced choirs called Passion to sing, written in 2015. It started life as a poem I wrote when my choir, The Resonants, directed by Helen Swan, was looking for a text to be the seed of a work commissioned by the choir to commemorate its 25th anniversary.* I felt strongly that the lyrics should celebrate the act of choral singing for its ability to unite individuals in the joy of creating music with nothing but their own bodies. The poem was inspired by the philosophy of groups such as Musicians Without Borders, The Choir of Hard Knocks, With One Voice choirs and my own experience of moving to new locations and joining choirs. The lyrics explore the physiological process and natural reward of producing vocal sound, the psychological journey from isolated individual to integral member of a harmonious community, and the broader benefits for humanity of the shared experience of group singing. Written for the purpose of being set to music, I later felt compelled to bring to life my own musical vision for the text, and presented the result to The Resonants in late 2015.
Passion to sing is a single work set in three connected movements for mixed a cappella voices (SATB multi‑divisi). The music is expressive and exploratory, incorporating vocal composition techniques inspired by many of my favourite Australian and international composers such as Matthew Orlovich, Iain Grandage, Ola Gjeilo, Eric Whitacre and Jonny Priano.
The first movement starts from silence and uneasiness, and is largely textural, gradually building rhythm and momentum until the moment where our conceptual shy singer is ready to utter their first note. The second movement is a more recitative exchange as our singer tests their voice and discovers others. The final movement has a more traditional choral verse:chorus structure that revels in the richness of homo- and polyphonic harmony, building to a joyful, room-filling conclusion.
As the resident graphic designer for The Resonants, I also designed the poster for the 'Home grown' concert at which this music premiered in September 2016 at the Great Hall, ANU, Canberra.
Weather makers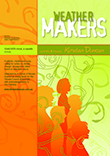 SSAA/SATB choral, a cappella or with optional cello
4:35 min
ISMN: 9790900969927
$4.50
Weather makers
My second piece, Weather makers was in fact performed two days before my first piece on Thursday 1 September 2016 at a concert staged by A Chorus of Women to raise funds for the Climate Council of Australia. Climate change being one of the issues of modern civilisation that I feel most passionate about, it was an honour to be invited by A Chorus of Women to contribute to their event. Thank you particularly to their musical director Johanna McBride, organisers Meg Rigby and Janet Salisbury (who also happens to be my boss at Biotext!), composer Glenda Cloughley, singer Peter Abbott and cellist Clara Teniswood for forming the ensemble who gave the premier performance of this work.
The refrain of my song quotes the titles of two of Tim Flannery's books, 'We are the weather makers' written in 2005 and the 10-year follow-up 'Atmosphere of hope'. I felt it was important in this debate to acknowledge the substantial contribution of fossil fuels to modern civilisation, and then move past it because we now have the technology to replace all of those products. The lyrics also give a nod to action group GetUp! whose members, including me, campaigned so effectively in the 2016 federal election, and to science fiction writer Kim Stanley Robinson whose novels I have always loved for their scientific realism and ambition. One of Robinson's most recent books is set in 2312 and refers to our period of history as 'the dithering' – we need to keep demanding an end to it!
Jabberwocky
I've always loved the wildly imaginative, dramatic poem Jabberwocky by CS Lewis. There are other settings of this text for choir but I thought I'd have a crack at it. The intention with the first draft was really just a simple parody of the anglican chant style, inspired by my years of singing Evensong services with the Choir of Christ Church St Laurence in Sydney. But my refreshed thinking about it was to adapt the chant style into a more story-teller style – imagine sitting around a campfire reciting poetry and telling ghost stories with a torch under your chin and nothing other than your voice to create atmosphere and mood, a couple of your mates throwing in some sound effects to illustrate certain bits, like the jubjub bird call, and a few music cliches and jokes like the 'angels' singing an amen-like perfect cadence for the dead creature and the 'one, two, one, two' of the sword being literally chords I and II of the home key.
* The Resonants commissioned award-winning Canberra composer Sally Greenaway who wrote Resonance (2015), setting an extract of my poem. The Resonants first performed Resonance in November 2015. The sheet music is available from the Australian Music Centre.