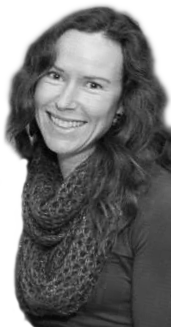 Just doing what comes naturally
Even in childhood I loved designing and creating stuff—toys, clothes, posters, lettering. As an adult I eventually figured out that there are whole industries devoted to design so I trained in fashion design and later graphic design.
Along the way I did a few other things—studied a Bachelor of Science majoring in Chemistry, Oceanography and English, navigated Royal Australian Navy warships, hand-crafted haute couture wedding gowns, secretaried for investment banks and economists, wrangled infographics for the Prime Minister, and spent five years as the senior graphic designer at science communication company Biotext.
My growing concern for the state of the planet and politics led me to study a Master of Climate Change at ANU, and I have since been advocating for the environment as a campaigner at the Conservation Council ACT Region.
I live in Canberra with my beautiful family, where I also sang for more than a decade with award-winning choir The Resonants. So that's me in a nutshell.
To read the details of all of that (up to when I joined Biotext), download my CV. To see my stuff, click the menu links at top right.
Kirsten Duncan